I recently received a Julep Intro Box to review. Julep is a company that offers a monthly nail polish subscription service for a fee. You can take a style quiz to see which box (American Beauty, Boho Glam, Bombshell, Classic with a Twist, and It Girl) matches your personality. You can opt out of any month, switch boxes, and/or send your box to someone else as a gift. These boxes are packaged so cute they would make a nice pre-wrapped gift. My style was Bombshell; however I chose to receive the It Girl Intro Box. This box came with three nail polish colors and a set of toe separators.
The first polish I used was Daisy. Daisy is a yellow cream polish. I started with L.A. Colors base coat-top coat, and then applied two coats of Daisy. This is a nice bright polish that went on smoothly. As I was painting my nails I could see little bubbles, and sure enough I ended up with little air bubbles on my nails. This polish took a long time to dry. When Daisy did dry, I added N.Y.C.'s Grand Central Station. The second coat of Daisy along with the top coat of Grand Central Station really helped reduce the appearance of the air bubbles.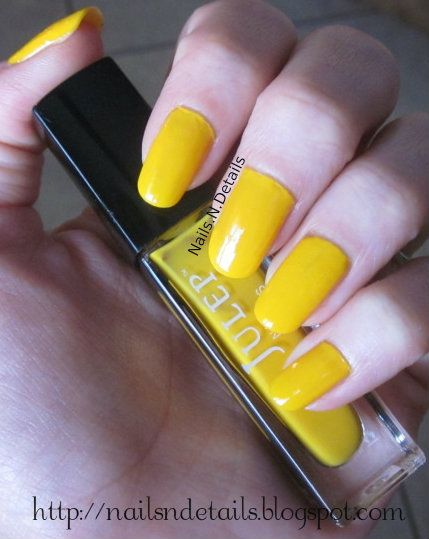 The second polish I tried was Lily. Lily is a fuchsia cream polish. Again I used L.A. Colors base coat-top coat to start. I followed with two coats of Lily and a top coat of N.Y.C.'s Grand Central Station. As I started applying Lily, I could not believe how pretty the color was! It reminds me of a glossy version of Dream On. I did not have as many bubbles with Lily as I did with Daisy, and Lily dried a lot faster.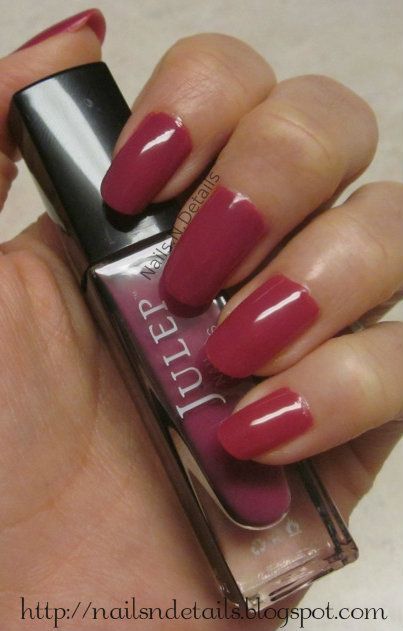 My favorite of the three colors in the bottle was Sasha. Sasha is a melon cream polish. I started with L.A. Colors base coat-top coat followed by two coats of Sasha and a top coat of N.Y.C.'s Grand Central Station. There was minimal bubbling with Sasha that was not visible after applying a top coat. Drying time for Sasha was average and about what I except from most nail polishes.
The one thing I did not care for with these polishes was the bubbling. I did not handle or use these polishes any different than I do any other nail polishes as far as shaking the bottles, painting my nails, or drying my nails go. These polishes were packaged very well and individually wrapped in plastic coverings, so I do not think any kind of polish thinner was added to them (which I hear can cause bubbling). I do not know why these polishes bubbled up on me. Again, a second coat of nail polish and a top coat helped reduce and/or eliminate these bubbles.

UPDATE: I was informed by Natasha from Julep that it is recommended to roll the Julep bottles to mix them instead of shaking them like you would other nail polishes. This is because of the unique shape of Julep nail polishes. Rolling the bottles helps with the bubbling.

Overall I really like these three colors. They applied easily. I think they are great for the warm weather. I stamped over Lily using Pure Ice Outrageous and Mash-28 image plate. I really like these two colors together. I think all of the colors in the It Girl Intro Box go well together. I added dots of Lily and slightly smaller dots of Daisy over Sasha to create a cute and easy doticure.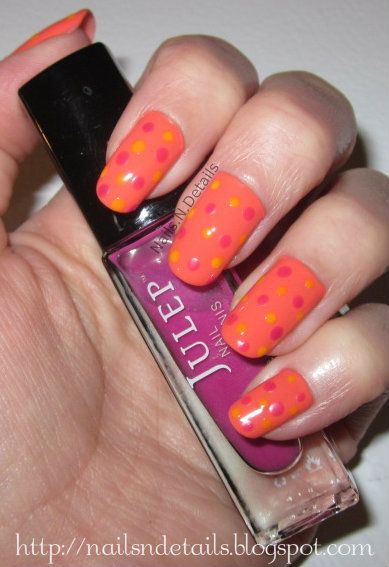 You can sign up for Julep though my
referral link
. If you enter promo code "MAVENINTRO" you will get your first Maven box for just a penny! At that price, this is definitely a polish to try! You can win a free Julep Intro box here. Simply fill out the Rafflecopter fields below. The giveaway will run until July 27th. If anyone signs up, or you are the lucky winner here, let me what you think of Julep and send me a link if you do a review. Good luck everyone!
(Julep products sent for review)
a Rafflecopter giveaway