Pure Ice has created a DJ inspired nail polish collection called Vinyl Remix. There are six sets included in this collection. Each set includes a Platinum base coat, a Vinyl Remix polish, a nail file shaped like a vinyl record, and a free song download.
All of the sets look like they have a white and a black nail polish. The white platinum base coat is the same; however the black polish changes into a color with black crackle on top. The color depends on which of the Vinyl Remix sets you have. Today I have Pure Ice's Vinyl Remix nail polish in Rave. Rave is an orange polish.
I started out with
Sinful Colors Basecoat
. I then applied the Pure Ice Platinum Magic Base Coat. The Platinum Magic Base Coat is a thick white polish that went on easily and dried quickly.
When this was dry, I begin to paint my nails with Rave. The polish cracks differently depending on the brush strokes you use. As the polish dries it begins to crack and change colors. It is interesting to watch and a ton of fun creating different looks! On my left hand I brushed an "S" shape onto the middle of my nails a few times. I then filled in the sides with diagonal lines from the outer part of my nails toward the "S" shaped center. I topped it off with N.Y.C.'s Grand Central Station.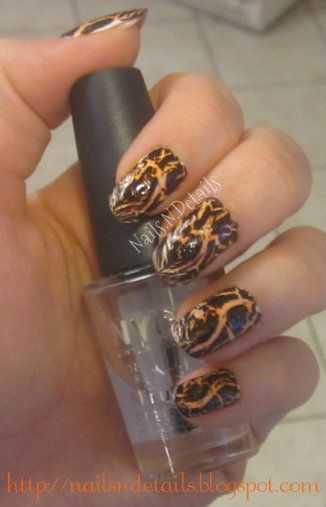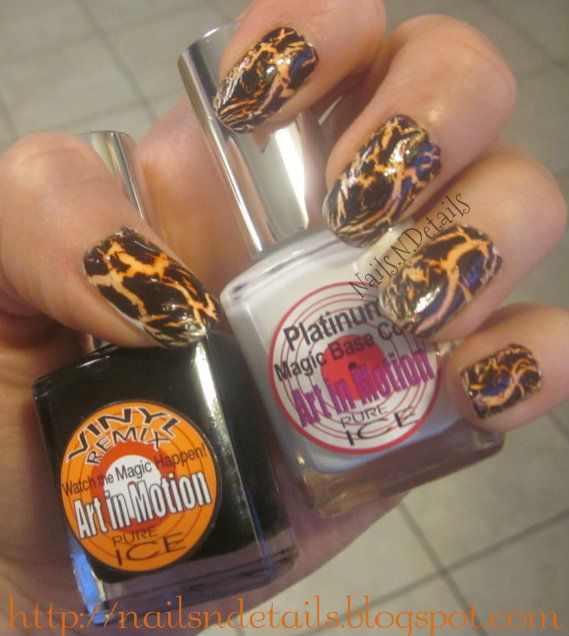 I decided to play around with different brush strokes on my right hand. Since I am right-handed, I had to paint the nails on my right hand with my left hand. Despite this, the nails on my right hand turned out looking good. It just goes to show how easy it is to create nail art with Pure Ice's Vinyl Remix polishes!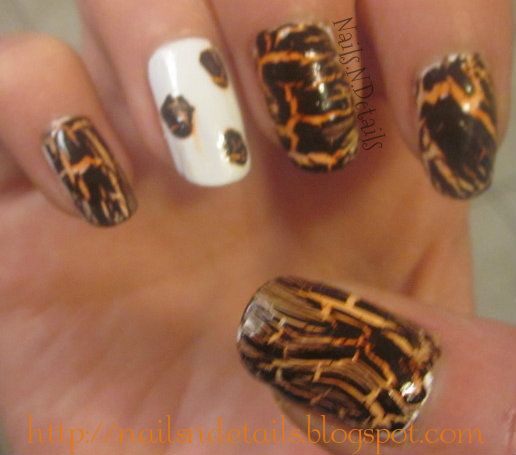 On my thumb I did the same brush strokes as I did on my left hand. I used diagonal brush strokes on my pointer. I did horizontal brush strokes on my middle finger which made me think of tiger stripes when it dried. I did three small circles on my ring finger, and for my pinky, I did vertical brush strokes.

I had a lot of fun using these nail polishes! It was simple to do and you end up with a great looking design. Pure Ice Vinyl Remix will be available at Wal-Mart now in May.
(Products sent for review)